Swimming Pool Contractors in Omaha, NE
A premier designer and builder of pools and spas, New Wave Pools & Spas Inc. provides services to residential and commercial customers throughout Omaha, NE and beyond. We're also your tenured pool builders and experts, offering pool repair services, water treatment, pool maintenance, care products and more.
Luxury Pool Design and Upkeep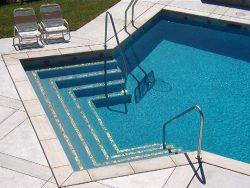 If the time has come for you to make an investment in a luxury in-ground pool for your home or commercial business, trust the swimming pool contractors in Omaha, Springfield, Chalco, Gretna, and Papillion, NE New Wave Pools & Spas Inc. Our team of pool builders has decades of cumulative experience when it comes to designing unique, accommodating pools—and, we're backed by the expertise and equipment to bring them to life through a complete build process! Our background consists of new construction and renovations for commercial and professional facilities, as well as discerning homeowners, with an emphasis on luxury features that make your pool a quality investment. When you choose us for your new swimming pool construction, you're making a choice that will pay dividends in your satisfaction, quality of life and investment value.
Beyond just designing and building luxury pools, we are also your partner in repairing and maintaining existing pools in Omaha, NE. We'll help you make sure your in-ground investment is in top quality for as long as you own it, whether that means making updates and swimming pool repairs over time or simply treating the water periodically. We often assist pool owners with tile repair, winterization, pump and filter repairs and more. Take a look at a few more reasons we're widely trusted for our expertise when it comes to the design and building of your new pool including pool services:
Our pool builders have a combined 75 years of experience in all facets of the residential pool industry.
We're members of the Association of Pool and Spa Professionals (APSP).
We're a Better Business Bureau (BBB) accredited business with an A-plus rating.
We're affiliated with the National Plasterers Council (NPC)
Our services and products are available to both residential and commercial customers.
Enjoy the Perfect Pool
Looking for experienced swimming pool contractors to design and build your ideal pool? Get started with one of our experienced pool builders today and bring your vision for luxury to life. You Dream It. We Build It.
Areas Served
Nebraska
Iowa
Kansas
South Dakota
North Dakota
Minnesota